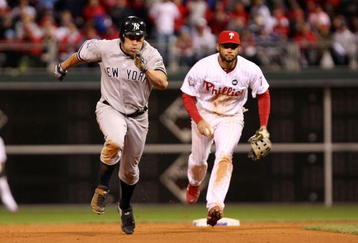 If you stayed up late last night and caught the top of the 9th of Game 4, you would have seen a classic Johnny Damon at bat: after falling behind 1-2 in the count, Johnny seemingly fouls off 25 balls and finally drops one perfectly between three Phillies for a base hit.  Two out, one on, Mark Teixeira up at bat. The Phillies put on the shift. Damon steals second on the first pitch to Teixeira.  And when the throw to second wasn't perfect, Damon steals third, since no one is covering the base.  I couldn't believe it.
You could tell when Damon walked to the plate that he was going to get a hit.  There was no doubt in my mind that it was going to happen. Then to watch the double steal?  That was just golden. I would love to see the Phillies win this series, but you have to give Damon credit for recognizing a great situation and having the guts to take advantage of it on baseball's greatest stage.
I really miss seeing Damon in a Red Sox uniform.